41 - 46 Chevy Pick Up Chassis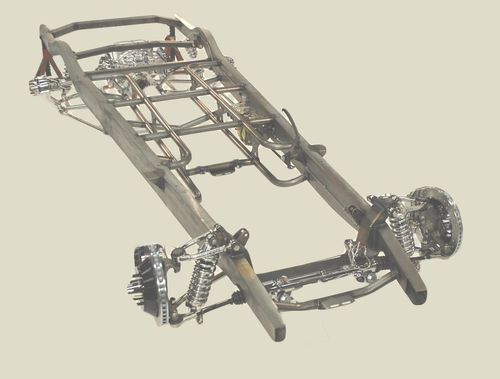 Boxed Frame Rails
Frame rails are laser cut from 11 gauge P&O steel plate, mounting nuts welded inside the frame rails. $1,880

Perimeter Frame
Frame rails, tubular center cross member with removable transmission mount, front clip adjustable mount, body outriggers mounts and rear support bars. (no front cross member for suspension). $3,219

Basic Frame
Perimeter frame, engine mounts (SBC or SBF), Mustang II front cross member, brake pedal pivot, master cylinder mount, brake push rod, rear 4 bar frame brackets and rear coil over shock mount. $5,657

Rolling Chassis
Basic frame, Heidt's Mustang II Front End with GM Disc Brakes, tubular upper and lower control arms, 2" lowered spindles available, brake pedal and master cylinder mount, new 56" wide 9" Ford housing with 31 spline axles, reconditioned 3rd member (any gear ratio), rear 10" drum brakes, rear parallel 4 bar suspension with panhard bar and rear adjustable Aldan coil over shocks or parallel leaf springs. $9,312

Note: Crating and shipping not included. 65% Down Payment Required on all Rolling Chassis and final payment due 5 business days prior to shipping.

Upgrade Options
Power Steering Rack - $180
11" Polished Hub, Drilled Rotors - $431
12" Polished Hub, Drilled Rotors - $521
13" 6 Piston Wilwood Calipers, Polished, Drilled - $1,339
Sway Bar - $159
1 Vented Rotor, 360 Degree Back Plate, Wilwood Disc - $899
Positraction Third Member - $621
Rear Wilwood Disc Brakes with E-Brake - $595
Real Wilwood Disc Brakes with Polished Calipers - $694
Steel Brake Lines - $738

Heidt's Superide II Front End with Wilwood Disc Brakes and Silver Powder Coated Springs, Sway Bar and Power Rack - $1,295